Two weeks ago, Xavier was in a tailspin, looking very much like a young and shallow squad plunging towards the .500 mark and irrelevant basketball in March. From that purgatory, the Musketeers have risen from their own ashes to take four straight - including a potential landmark win over perennial conference contenders Temple - on the back of an efficient, though not prolific, offense and a smothering half-court defense. Better still, Xavier is starting to appear in "first four out" sections of bracketology columns the world over. This is classic Xavier: let everyone count them out, fall off the radar, and then storm back when things start to matter.

Of course, that formula really only works if you keep winning games, and Xavier's next obstacle is no pushover. Charlotte comes into Wednesday's game sitting at 15-3 (3-1). The 49ers record is gaudy, but a quick glance at their schedule reveals that it hasn't exactly been a gauntlet for them. Of their 15 wins, 14 come against teams rated 110th or worse by Ken Pomeroy. In their four games against teams ranked in Pomeroy's top 100 (Miami (FL), Florida State, La Salle, Richmond), they are 1-3 with a combined scoring margin of -45. Coach Alan Major's crew has put together an impressive start to the season, but they can be had by the right team.

Team fingerprint:
Charlotte is a stout defensive team, ranking in the top 50 in the nation in adjusted defensive efficiency. Their strength comes in forcing teams to take bad shots and then shutting possessions down on the boards. Their defensive rebounding percentage clocks in at 120th in the nation, and their EFG% against is 42.6%, good for 12th. Teams are bad (29.9%) from behind the arc and even worse (41.3%) from inside it, though the 49ers are fairly weak in terms of keeping teams from taking three-point shots. While they are just average in forcing turnovers, they do rank 63rd in the country with a steal% of 11.8%.

Offensively, it all kind of falls apart. There are a couple of positions of strength for Charlotte. The rebound more than 35% of their own misses, good for 72nd in the nation. They also shoot 50.8% from inside the arc, which is good for 58th, and excel at getting to the line. Unfortunately, they are undone by a turnover rate of 21.3%. They are also fairly poor from the line at 65.4% (behind even Xavier, who connects at a 65.5% clip) and abysmal from deep, hitting just 26.3% of their three-point attempts.

We've already touched on the relative paucity of quality competition in the Charlotte schedule, but it's worth noting that Ken Pomeroy rates their non-conference SOS as 301st in the country. The 49ers are deep, with 37.6% of their minutes coming off of the bench. They're only the 313th most experienced team in the nation, however. Finally, they have an effective height of -0.5", 208th in the country.

Starters:
The player: 5'11", 173 pound freshman guard Denzel Ingram
The numbers: 6.2/1.3/1.4 on .415/.302/.700 shooting
More numbers: 15.6% usage rate, 20.6% TO rate
The words: Denzel Ingram, as you may have noticed, is not a very big man. To be listed at 5'11", 173 in an official program, you have to be about 5'8", 155. His role on the team is to keep the ball circulating on the offensive end; he rarely looks for his own shot. Defensively, he adds a steal per game and is generally active around the ball. If Denzel Ingram decides the game, though, something has gone amiss. Henry talks it over with a couple of guys to the left. (Photo: Steve Mitchell-USA TODAY Sports)

The player: 6'4", 200 pound sophomore guard Pierra Henry
The numbers: 9.2/5.1/3.2 on .449/.222/.687 shooting
More numbers: 19.7% assist rate, 5.1% steal%, 12.8% DReb%
The words: Henry is a big-bodied guard and gave Xavier all kinds of trouble in this fixture last year. He is unquestionably a vital cog in the Charlotte machine, leading them in minutes by a margin of 174 over the next closest player. On a team deep enough for Alan Major to run players in and out, Henry is the one he feels least comfortable replacing. He is an excellent rebounder for a guard, but he's most valuable for his distribution on the offensive end (he leads the team in assists by a wide margin) and his ball-hawking pressure on the defensive end (he leads the team in steals by a wide margin).

The player: 6'4", 211 pound sophomore guard Terrence Williams
The numbers: 7.1/3.1/1.7 on .324/.071/.756 shooting
More numbers: 25.1% shot rate, 33.1% EFG%
The words: EFG%, for those not familiar with it, measures what percentage a player would have to shoot to match his current output if every shot attempt he took was from two-point range. National average is about 48%. Williams' is 33.1%; if he shot nothing but two-pointers, he wouldn't even have to make a third of them to get his 7.1 PPG if he continued to shoot as often as he does now. What I'm saying is that Williams is an awful shooter, yet he takes more than a quarter of his team's shots when he is on the floor. With no dominant statistical categories balancing out his offensive struggles, Williams is not exactly lighting the world on fire for Charlotte.

The player: 6'7", 236 pound freshman forward Willie Clayton
The numbers: 8.2/7.3/0.3 on .569/.000/.508 shooting
More numbers: 19% OReb%, 17.8% DReb%, 4% block%, 4.8 fouls drawn per forty minutes
The words: Willie Clayton is a monster in the paint on both ends of the court. He isn't often on the receiving end of plays called, but when the ball goes up, he goes to the glass hard. Only three players in the nation are more prolific on the offensive glass than Clayton, and he's no slouch on the defensive boards, either. Only his gruesome performance from the free throw line keeps his stats in his 21.8 minutes per game from really jumping off of the page. He has all the markers of a player that can menace the A-10 for the next three years.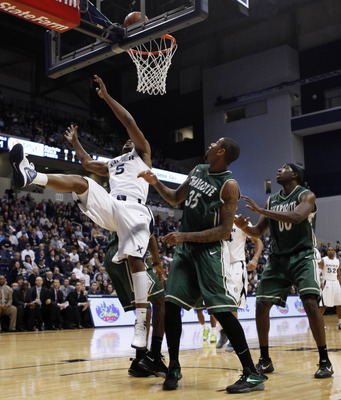 How Chris Braswell (#35) looked during the Xavier game last year. (Photo: Frank Victores-USA TODAY Sports)


The player: 6'9", 227 pound senior forward Chris Braswell
The numbers: 11.5/6.1/1.1 on .456/.250/.733 shooting
More numbers: 25.8% usage rate, 17.7% DReb%, 4.2% block%
The words: Braswell is the old hand on this Charlotte team. His numbers are down from the marks he set last year, but he is still capable of swinging a close game. His work in the lane on defense and the defensive glass goes a long way toward giving Charlotte their defensive solidity, and he is capable of scoring from the paint, mid-range, or out to the perimeter.
Reserves:
Junior guard DeMario Mayfield is the guy who gets the biggest bite of the bench minutes for Charlotte. In 25.3 minutes per game, he's averaging 11.3/3.4/2.1 on .496/.279/.726 shooting. He gets more minutes than every player on the team except Pierria Henry. Six-foot-six freshman wing Darion Clark is a demon on the glass and the best shot-blocker on the team. He also shoots 58.8% from the floor but a mere 41.1% from the line on his way to 6.5 PPG in just 18 minutes per game. E. Victor Nickerson is a 6'7" sophomore who hits 42% of his three-point attempts, though he has only shot 19 of them on the season. JT Thompson is listed as a F/C on the roster despite standing only 6'6". He is an excellent free throw shooter and a decent rebounder, but he doesn't do much else well during his 15 minutes per game.
Three questions:
-Can Redford stay hot? Charlotte has a good three-point defense, but it is based more on forcing misses than keeping teams from shooting. There's no such thing as forcing Redford into a bad shot, though; if you've given him enough space to catch the ball, he has enough time to shoot. If the pride of Frankenmuth can keep hitting from deep, it will go a long way towards opening up the middle for Xavier's slashers and post men. The Muskies are 7-0 in games in which Redford connects at least three times from distance.

-Can Xavier take care of the basketball? Guess who is worst in the conference in offensive turnover percentage? Well, it's actually Dayton, but I'm not one to pass up the chance to take a cheap shot at the Flyers. Xavier is 12th, which isn't much better, and they haven't played many of the teams in the conference that force turnovers as a matter of course. Of the teams Xavier has played, only La Salle is forcing turnovers at a rate better than the national average, and only GW of the remainder is even close. There are a lot of things the Musketeers do well on offense, but they undermine them all when they throw the ball away instead.

-Who wins a free throw shooting competition? Both of these teams are frankly brutal from the free throw line. Xavier is 271st in the nation in FT%, and Charlotte is 274th. Ken Pomeroy sees Xavier as the better team but Charlotte as holding the home field advantage (obviously). That leaves this game as functionally a coin toss, at least in Mr. Pomeroy's mind. In a tight game, it's going to come down to who can execute at the free throw line. There's every possibility that one of these teams outplays the other for the first 38:30 and then gags it away at the stripe in the last 90 seconds.

Three keys:

Jeff Robinson et al. should support Travis Taylor (GET IT?). (Photo: Jayne Kamin-Oncea, USA Today Sports)

-Keep Taylor out of foul trouble.
Semaj is the most influential player on the court for Xavier, but
Travis Taylor
is in many ways the straw that stirs the Muskies' drink. Taylor leads the team in minutes and has emerged as a reliable hub on the offensive end and an influential presence on the glass at both ends. Charlotte's forwards all draw fouls at an excellent rate; it would behoove Xavier to rotate their lesser post players (Philmore, Robinson, really any of them not named Travis Taylor) through the primary post defensive responsibilities to keep Taylor on the floor and aggressive.
-Pack the paint.
The 49ers are an awful three-point shooting team, but - to their credit - they've shown that they're not really interested in lifting from deep very often. There's no profit in chasing shooters around the perimeter for Xavier. Keep everyone not guarding the ball within 17 feet or so of the basket, offer help on drivers, and generally clog things up for Charlotte's bigs. This also put the Muskies in position to grab rebounds and hold Charlotte to one and done.
-Use two ball handlers.
Semaj Christon
is a more than capable ball-handler, but he's also Xavier's most explosive half-court scorer. Pierria Henry is a very good defender who has the size and length to at least bother Christon all the way down the floor. By using Davis and/or Redford to split the primary point guard responsibilities, X kills two birds with one stone. They save Christon's legs for the vital role he plays in the half court, and they keep the ball from spending too much time right in front of Charlotte's best on-ball defender.