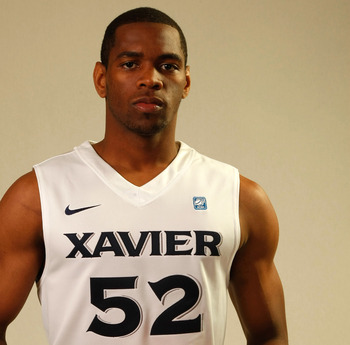 Not the face of an extrovert
While not as famous as its reveling, partying, devil may care older brother, it's the eighth of May that Xavier fans are far more concerned about this year. You see, this year it's May 8th that marks the final day for underclassmen to drop out of the NBA draft. While Xavier has lost players early before (Jordan Crawford and Derrick Brown) the prospect never seems any less daunting. Tu Holloway's exploits this year are well chronicled, as it what he needs to improve for next year. What is less clear is exactly what the reclusive guard is thinking. 
What others are thinking is a bit more clear. First, the Bleacher Report chimes in with what will be encouraging to us, less so to Tu. While the point that the Marquette game may have damaged Tu a bit stands, it's the foolhardy team that rates a player on one game. Far more pertinent is the point BR makes later about Kemba Walker, the NBA is not rife with 6 footers without blinding speed.
At ESPN, Eamon Brennan points out that Xavier is one of the teams sweating out the deadline. Brennan says that XU is known for filling holes but makes the same point all of us have in the last few weeks, Tu leaves more than one hole. On the ESPN list it is hard to find a player that does as much for his team as Holloway does.
Mock drafts at both NBADraft.net and DraftExpress have Holloway going unselected. That, of course, is of no help if he has already missed the deadline to withdraw. Even a second round selection will not be enough to guarantee that Holloway sticks in the NBA.
On of the problems with situations like this is that they tend to embitter a fanbase toward a player. No matter what happens in the next two days, Tu Holloway doesn't owe Xavier fans or Xavier University anything. The purpose of college is to get into a better position for gainful employment. If Holloway believes he has done that with his monster 2010-11 season, it is incumbent upon him to act on that. I, for one, don't see Tu withdrawing. He's talented, riding high, and confident. None of those attributes seem to make him likely to second guess himself. Whether he does or not though, I'll be happy for the time he play as a Musketeer.