Careful there, Jimmer.
I don't think Jimmer is that special. That's not to say he's not a good scorer or a good ball player, but the cresting wave of media fancy that has carried him to first-name status seems somewhat unwarranted. Fredette is a volume scorer on a team that doesn't need him to be. Aside from having a center who could score at will (ha-HA!), this year's BYU team had in Jackson Emery (12.5 PPG, .427/.361/.829 shooting) and Noah Hartsock (8.6 PPG, .498/.433/.828) a couple of efficient scorers who can - in the parlance of my ten year old brother - put the biscuit in the basket. With such talents around him, it seems a little absurd to paint Fredette as a unique, once-in-a-whatever scorer carrying his team to the Sweet 16.
Everyone wanted a piece of Wally's hair.
I wanted to run some numbers on Fredette to see if they would back up what I was assuming about him (that he was a good but overhyped volume scorer) or if they would reveal that he was indeed a historical
anomaly
tearing through the pages of the NCAA record book. To put it bluntly, the first one is true. In historical context, Fredette reminds me of Miami (OH) G/F Wally Szczerbiak. Though their styles of play are slightly different, both were the focal point of their teams' offenses, and both weren't afraid to get buckets in bunches. In his 1998-1999 season, Szczerbiak - in addition to having one of the most phonetically unsound names in the NCAA - was a dynamic scorer who was somewhat devoid of high-level help. He posted a line of 24-8-3 to Jimmer's 29-3-4 and shot .522/.356/.831 to Fredette's .452/.396/.894. It's worth noting the Szczerbiak had a down year from behind the arc as a senior; his career mark from deep was .427. The only other player on that Miami team to get more than 8.3 PPG was Damon Frierson (13 PPG, .403/.260/.836 shooting).
The portion of the load shouldered by each player was remarkably similar as well. Szczerbiak scored 35.8% of his team's points, while Fredette got 35.4% of BYU's. Wally had 26.1% of his team's rebounds to Fredette's 8.9%, but Jimmer dished out 29.7% of the team's assists to Szczerbiak's 24%. He offset that with 32.4% of the team's turnovers; Wally only had 26.5% of Miami's.
This vaguely phallic graph proves my point.
Where Fredette doesn't shine in comparison is in terms of efficiency. He had 33.9% of his team's FGM and 33.7% of their attempts. Szczerbiak had 35.2% of the team's made buckets, but only needed 30.2% of the team's shots to do so. Wally also picked up 1.5 points per shot to Fredette's 1.4. The problem with a green-light gunner like Fredette is that if he goes cold and posts like a 11-29 game, he can burn up a lot possessions. With the help of the PPR formula
(briefly, a measure of how
often a team benefits from the possessions a player uses)
we debuted in our Mark Lyons profile, we can see that Jimmer averages over 15 empty possessions per game. He also has 17.5 fruitful possessions per game, putting his per game PPR at 2.15. Wally had 11.5 empty and 14.3 fruitful possessions per game for a PPR of 2.85 per game.
Even apart from historical context, it's not even clear that Jimmer is the best scorer in NCAA basketball this year. Kemba Walker gets 1.32 points per shot and posts 15.9 fruitful possessions against 13.3 empty ones per game. A certain local favorite gets 1.59 points per shot, 14.7 fruitful possessions per game, and 11.1 empty ones. Even noted gunner Andrew Goudelock from College of Charleston only puts up 13.9 empty possessions per game. On the flip side, Charles Jenkins of Hofstra is sixth in the nation in scoring, gets 1.55 points per shot, and has a PPR of +5.47 per game. If the pride hadn't been bounced from the CAA tournament by Old Dominion, you would have been hearing a lot more about Jenkins. As it is, he's a dominant scorer who never got the exposure Fredette did.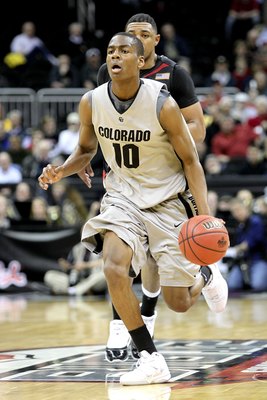 Bonus points for anyone who knows who this is and why he's on here.
I could go on, but I won't. All these numbers add up to one thing: Jimmer is good, but he's not unique in any way. Of the top ten scorers in the country, he's around the middle of the pack points per shot and PPR. He's a gunner whose national acclaim is based more on the fact that his team allows him to lift 20 times a game than it is on any special skill set he has. If he's lucky, he'll go on to have an NBA career that approaches that of Szczerbiak. More likely, he's go the way of JJ Redick and Adam Morrison when he gets into the NBA and has bigger, stronger, and faster players in his face, no protection from the whistle, and no carte blanche to shoot himself hot. At the end of his college career, Fredette should be remembered as a highly skilled player who was put into a situation to maximize his abilities. He should not go down as the National Player of the Year because, frankly, he's not that good.