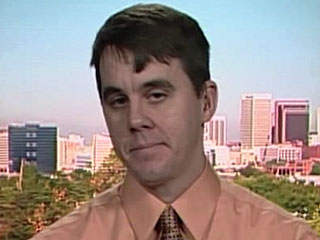 According to Google image search, this is Ken Pomeroy.
-Did you know Ken Pomeroy was a weatherman in real life? I certainly didn't. Turns out the genius behind
kenpom.com
(one of the most pleasant to say URLs in the world) has no background in basketball at all. His site started one year when he wanted to go a little deeper into the numbers behind Air Force's defense. More information at
this link
.
-The Wall Street Journal (you may have heard of it) ran an article yesterday about
why brothers dominate college basketball
. Dominate was their word selection, not mine, but the article is a pretty good read. As a brother combo here, we're looking forward to their article about why brothers dominate college basketball blogging.
-Adam Zagoria posted
an article comparing Jimmer Fredette to Pistol Pete
. The article seems to exist to debunk the claim that Jimmer, for all he is, is nowhere near the Pistol's production levels, especially taking into account that Jimmer has a three-point arc helping him out. It is also fun to note that Fredette apparently used to be fat.
-I always enjoy Shannon Russell's work, and I always enjoy hearing about bad things happening to the UD basketball program. It was like Christmas come early (or late), then, when
Ms. Russell posted news that Juwan Staten and Brandon Spearman are both leaving the Flyers
. Perhaps they saw how well Brian Gregory helped Chris Wright develop and decided one year was enough. Early word has UC and WVa in on Staten; Spearman's options are open right now,
according to his brother
.
-Finally, future Xavier guard
Darwin Davis dropped 31
and got the better of XU decommittee D'Vauntes Smith-Rivera in the Indiana Class 4A tournament. Perhaps Smith-Rivera - a 4 or 5 star recruit, depending on who you ask - will see the error in his ways and recommit to Xavier.