Still crying into your leftover green beer about Xavier's early exit? Or maybe you took advantage of the extra time off and are already hitting the recruiting trail? We're not Irish, and we certainly don't recruit, so here are some links that we found interesting. We hope you do the same.
-A story that beats up on the Big East and takes pot shots at the Big Apple? Yes please! Seriously though, this is a great story about how - once again - the Big East's own media hype machine built it up into something that, in reality, it isn't.
He'll make it, Coach.
-"Jumpshot Jimmy" Chitwood was hands down the greatest high school basketball player of his or perhaps any era, depending on what you think of Pistol Pete (these guys and their alliterative nicknames). The Harvard College Sports Analysis Collective has analyzed exactly how much Chitwood was worth to Hickory High in this article. Check back later in hopes that they do a follow up article regarding how much Kelvin Sampson would have paid to get Chitwood onto one of his teams.
-Brad wrote earlier about Jacob Pullen's efforts to drag K-State through to the next round. Austin Meek of the Topeka Capital-Journal noted the same thing, saying that "everyone should be talking about Pullen." He then proceeded to talk about things that were not Pullen, which kind of boggles the mind, but the larger point is that the tournament leaves young men who gave their all strewn in its wake, and we would be remiss not to note their efforts.
-Speaking of which, SB Nation ran a simple but poignant photo essay of the reactions at the end of the Texas - Arizona game. Of the dozens of games played over the weekend, almost every single one of them spawned the range of emotions that makes SBN's work at that game noteworthy.
-In places where the television coverage is slightly less all-encompassing, St. Thomas took home the NCAA Division-III basketball crown by beating the brakes off of Wooster. The NAIA's national tournament is down to its final four teams, with two Mid-South Conference schools still in the running to win it all. These games may not (read: don't) mean as much to the nation at large, but the emotions run just as high for the kids involved.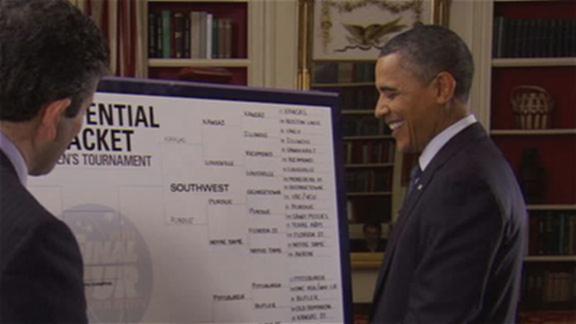 Mr. Obama in happier times.
-Finally, the President took a beating in the games last night. He managed to advance 10 of his Sweet 16, but Purdue, 'Cuse, and Notre Dame all let their commander-in-chief down. Say what you will about his politics and/or policies (please do so somewhere else); he's a likable guy and I can't help pulling for his bracket.