Don't be this guy
College basketball is not a game for the emotionally un-invested. Simply sitting idly by and watching the drama of a game unfold is not something the average person can do without becoming rooted to the spot. Things chance come March though, dozens of teams from handfuls of conferences that have never graced ESPN are suddenly in the spotlight of your glorious HD. The average fan often wonders "who is it I should love, and who is it I should hate?" Well, wonder no more friend. We're going to break this bracket down a little differently so you know who you can support, or rail against, with a clean conscience.
A disclaimer: Joel and I love stats of all sorts. You'll notice in articles written by both of us references to offensive efficiency and effective height. This is not one of those. This one is about emotion and gut feeling. In short, it's like analyzing basketball with Jay Bilas.
East Bracket:
We'll start here. You already love Xavier, so I don't need to tell you that one. 
Yeah Thad, we'll fight
Hate: #1 Ohio State.
- Why? Thad Matta. The details of the whole thing are still a bit nauseating, but it boils down to Thad being a massive liar and a lot of pure hearts being broken (I think). Matta swore his allegiance to Xavier and then headed up I-71 without a care in the world. It took a bit to rebuild what Thad had going, but Sean Miller did a good job of that. We'll deal with him later.
Hate: #3 Syracuse
- Why? The 2-3 zone. You know all those old guys that ball out at the YMCA on lunch breaks? The ones with knee braces, rec-specs, no game, and enough pent-up rage to rule North Korea? They play a 2-3 zone when they get tired, Syracuse plays it all the time. Syracuse doesn't go man and dare you to beat them, they don't pit their best against your best, they simply sit in the laziest defense of all time and hope you don't think of a foul line cutter.
Hate: #4 Kentucky
- Why? Because Kentucky thinks it invented basketball. Kentucky fans still defend Saul Smith even as they still extol the virtues of Jamal Mashburn. Kentucky fans lament this year's four seed as a hose job because they think the USA Today poll is a good way of measuring a team. Wildcat fans are unrivaled in both arrogance and ignorance. Most of the discussion swirling around UK fans I know right now involves whether they can beat OSU, not the two wins they'd need just to get there. Oh, and John Calipari.
Love: #7 Washington
- Why? Because they gunned their way into the tournament. Washington was clinging to a slim bubble dream and then went out and did what most bubble teams don't, win. Isiah Thomas knocked down a step-back jumper to put Arizona away and then reacted like he'd done just that. It was nice to see a team celebration in a world of chest-thumping and self glorification.
West Bracket:
Next stop is the West bracket. If you don't already despise UC, no amount of typing I can do will change that. Here's a quick primer on the other notable teams.
Hate: #1 Duke
A clear flagrant foul on the Binghamton player
- Why? Because they're Duke. Duke will get every call, every plaudit, every game lead-in, every game break, every television moment CBS can get them from now until April 4th. You can count on that. Duke will also play extremely soft basketball, complain about every call, and in general be like every guy you've ever hated playing pick-up ball against. Entitlement and condescension  ooze off the Blue Devil basketball program. 
Hate: #9 Tennessee
- Why? Scotty Hopson's hair.
Hate: #5 Arizona
- Why? Sean Miller. Thad Matta was the impossibly hot girl you knew wouldn't stick around for long. Sure, it hurt when she left you, but you knew it was coming. She'd had been other places and you were just another stop off. Sean Miller was different, he was going to be The One. Sean Miller seemed to embody Xavier basketball. He was undersized and scrappy, he loved pressure defense, and he seemed to enjoy the small school atmosphere. Sean made us feel comfortable. It was possible to look at him and see an old friend, a bit frazzled by the attention but doing a good job anyway. Then he left too, just like Thad.
Missouri, doing their thing.
Love: #11 Missouri
- Why? The Tigers make no attempt to hid what they do. When you play Mizzou, it's time to run. Missouri runs after misses, after makes, and after those ones that go part way down and come out. Missouri is high octane, high pressure, exciting basketball. They are going to give Cincinnati absolute fits.
Love: #4 Texas
- Why? Texas was criminally underseeded this year. Ken Pomeroy has them fourth in the nation, the Massey Ratings have them eighth. Despite that, it's impossible to find an article where the Longhorns are complaining about the cruel hand of fate. Instead, them seem insistent on just playing basketball.
Southwest Bracket:
Hate: #11b VCU
- Why? Because they have no business being here. This isn't the VCU team that beat Duke two years ago behind Eric Maynor. This is a team that lost by double figures to both Northeastern and Georgia State, whose best win was over UCLA on a down year, and who played 16 games against teams outside the RPI top 150. There are several other teams that deserved a look before the Rams.
Love: #15 Akron
- Why? Because the Zips actually have the nerve to have "Fear the Roo" as a slogan. Akron has played in five straight MAC championships and suffered through multiple overtime defeats before eking out the overtime win that got them here. They have no chance against Notre Dame, but beating your rival to make the tournament has to feel good.
Southeast Bracket: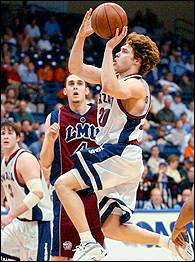 11 years ago. Time to let it go
Hate: #11 Gonzaga
- Why? Gonzaga was a true tournament Cinderella over a decade ago. Now, they are a respectable, nationally known program with an impressive string of tournament appearances. This won't stop every pundit for acting as if the Bulldogs are somehow still the plucky band of underdogs that Dan Dickau led. They aren't, they're actually a big program having a bad year. 
Hate: #5 Kansas St.
- Why? Because this team is UC from the 1990s. Frank Martin is a ranting disciple of Bob Huggins. The team itself is always on the verge of out of control and often plays down to the level of its competition.  If you didn't like UC back then for any reasons beyond the obvious ones, you shouldn't like this group either.
Love: #4 Wisconsin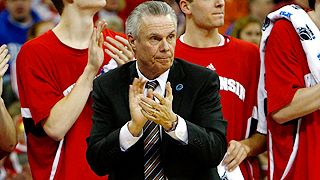 The slow clap of genius

- Why? The Wisconsin Swing. Talk to almost any basketball coach who appreciates ball control and discipline and you are sure to hear about Bo Ryan's famous offense. Wisconsin steadfastly refuses to adopt any other style and wins game after game simply because they execute brilliantly. No team in this tournament will be as in sync on one end of the floor as Wisconsin will be on offense. Bo Ryan can also do the Soulja Boy.
Love: #12 Utah St.
- Why? Because they have the best chants in college basketball. Winning Team-Losing Team and I Believe That We Will Win are both just awesome to see. This is what college basketball is all about and why so many people love it. Tremendous stuff.
So that's it then. These are just a few of the teams to love and hate as the tournament goes on but I'm sure more will crop up. Enjoy it everyone, this is the most wonderful time of the year.