This is the fourth and final senior profile in our Farewell week. The Three-headed Monster got things started, then Brad profiled Andrew Taylor and Jamel McLean. Running the anchor leg is Examiner favorite Dante Jackson.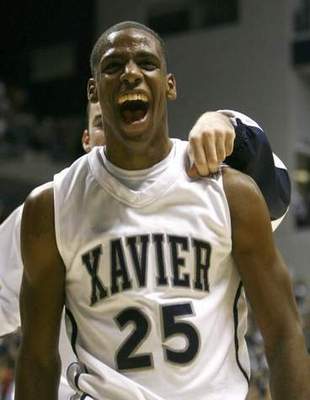 Dante Jackson was the first Musketeer whose name I knew well in advance of his showing up on the Xavier campus. My dad was working over near Greenfield while Dante was in high school and - having spent almost his entire adult life involved in high school basketball in one capacity or another - he would regale us with stories he had heard about how good a ball player Dante was. It was all true, too: Dante averaged 28-8-5 as a junior and 26-12-5 as a senior. By the time Dante headed off for X, he had compiled an 85-12 record in at Greenfield McClain and accumulated three First Team All-Ohio selections.
Career averages: 5.8/2.7/1.9, .371/.356/.717
Dante's freshman year saw him average only 10.4 minutes per game, mostly to spell the starting guards and provide a different look on the perimeter. His numbers that year were pretty pedestrian; he never cracked double-digit scoring and picked up his season high in assists against Coppin State. He started hinting at his future as a stat-stuffer with 6-2-2 and 4 steals against Dayton that year, but mostly he spent a lot of time working on cracking a tough rotation that included Stanley Burrell, Drew Lavender, CJ Anderson, and BJ Raymond.
Dante started to shine as a sophomore. With Drew Lavender gone, there was a vacuum at the point. In what would become a theme of his career, Dante was square-pegged into the round hole and filled the role admirably. Tu Holloway was a maddeningly inconsistent freshman at that point and - despite never looking entirely comfortable on the ball - Dante was able to stabilize the team. He dished out seven assists in a win against Auburn, picked up six more in wins against Fordham and St Louis, and posted a 1.4 A/TO on the year. He also started tormenting Dayton, dropping 14-8-3 on 4-7/3-5/3-4 shooting in the March 5th win that avenged an earlier loss at UD Arena.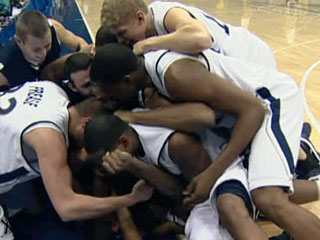 Dante is under there, being a hero.
With Holloway looking more comfortable on the point and Mark Lyons and Jordan Crawford ready to provide depth at the one and fill the other starting guard position, Dante changed roles again in his junior year at X. His move off the ball and onto the wing led to fewer shot attempts and fewer assists in his stat line. The emergence of Crawford and continued development of Holloway meant fewer touches and less involvement on the offensive end. Jackson responded with the best shooting line of his Xavier career (.396/.401/.759). Dante had attempted 67 shots inside the arc and 68 free throws as a sophomore; in his new role he had only 45 two-pointers attempted and 29 free throws, further illustrating his diminished role in the offense. Despite this, he never publicly complained about his role on the team, instead becoming a vocal and emotional leader on the floor and a fan favorite. His 19-5-2 on 6-13/5-8/2-2 against Dayton in a four-point January win didn't hurt in the latter regard.
This season, Dante inexplicably started out the year stone cold. By January 20th, Dante was still mired in a shooting slump that saw his three-point percentage sitting at .286. The senior continued to say the right things in the papers and work hard on the rest of the facets of his game, and things slowly swung in his favor. From the 20th of January on, Dante shot .400 even from behind the arc and provided the spacing Xavier desperately needed on the floor. While his season and career ended all too abruptly, Jackson leaves Xavier tied for second in program history in wins (107) and NCAA tournament victories (7).
Despite his obvious talents coming out of high school and the flexible game that got him named one of ESPN.com's 16 most versatile players, there are two things about Dante's career that will stick in the minds of Muskie fans. The first was his clutch shooting. Dante had a knack for finding space in one corner of the floor or the other and burying huge shots to either salt games away or throw X a lifeline. He was perennially inspiring fans to say, "Gotta have it Dante... YES!" The last of these moment came down 16 to Marquette early in the second half of his last game, giving the faintest of hopes that the game might not yet be over.
This guy is irreplacable.
The other was his obvious passion - not just for basketball, but for being a part of the Xavier program. In a world where coaches talk to the media about the respect they have for the other team, and Tu Holloway attends UC games and affirms that he's a fan of theirs for every game other than the Crosstown Shootout, Dante seems more like a die-hard Xavier fan. When XU knocked off Pitt in the tournament, it was Dante who stormed back onto the court with the blue flag flying to thank X fans for their support. When XU was in the run up to playing Dayton this year, it was Dante who said "There's no greater feeling than to be the guy they all hate." I'm not questioning that it means more to Dante than it does to Coach Mack or Tu; one only need to watch the end of the Marquette game to see how much it meant to those guys, and the entire team. But with Dante, it felt like it not only meant as much to him as it did to us, but it meant the same things. I loved watching Dante play because he represented everything I felt as a fan. Xavier will probably have a better and deeper team next year than it did this year, but they'll never be able to replace Dante Jackson.