I much the same vein as Brad approached the top half of the bracket, I'm deconstructing the bottom half. If you missed
my look at the campus site games
, just know that I was equally as accurate as a coin toss when it came time to predict the winners and losers. As I happen to have a coin on me today, I'll go toe-to-toe with it for round two as I work through the bracket. Heads will mean a win for the higher-seeded team, tails a victory for the low seed. I feel like I can put some distance between myself and Mr. Washington this time around. I'll post our picks tomorrow, but without further ado:
#2 seed- Temple Owls:
Can Owls actually cry?
Who to watch: Guard Ramon Moore. Moore leads the team in scoring with 14.8 PPG (.430/.794/.398 shooting) and is second on the team with 3.3 APG. Moore averaged 16 points in Temple's wins this season and only 11 in their losses. Moore's shot selection and ball security make him well-suited to having a lot of time on the ball, and Temple generally keys off of his ability to set the tone of a game.
Worst case scenario: Temple's porous perimeter defense (11th in the conference in 3P% given up) lets them down and they have to play from behind. With a team suited to playing a slower pace, they end up having to chase the game and not being able to catch up. They've played right around 65 possessions per game on the year (about a possession per game slower than Xavier, and slower than 240 D-1 teams), but almost 69 possessions per game in the six games that they've lost.
Best case scenario: The Owls clean the glass and control the pace, and their perimeter defense never becomes a problem. With Moore as their go-to scorer and three other players averaging double-digits, Temple is a legitimate threat to get hot and win the tournament. Just like last year. And the year before that.
NCAA chances: Lock. The Owls are playing for seeding at this point.
#7 seed- St. Bonaventure: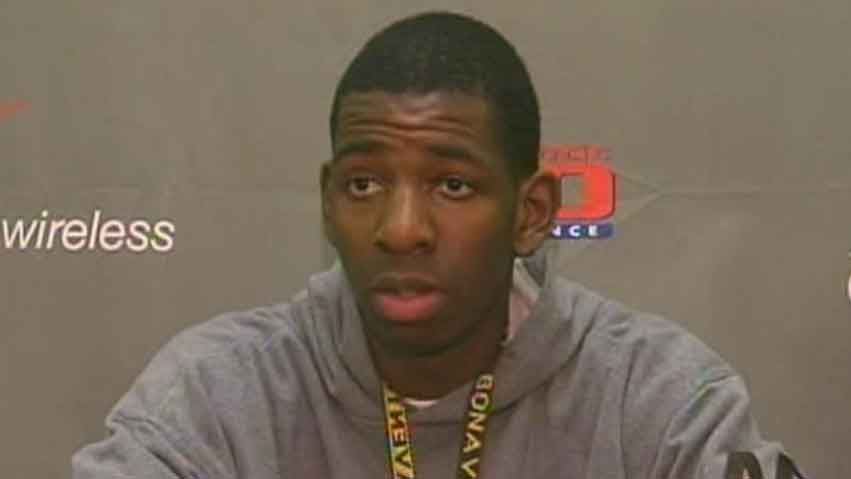 Nicholson was a little stunned by the loss.
Who to watch: Andrew Nicholson. The junior forward is one of the top players in the Atlantic 10. While not a meaningful threat from the perimeter (5-22) on the year, he shot .573 from the floor and .707 from the line this year. His 20.5 PPG and 7.2 RPG each led the Bonnies, and they're going to need at least that out of him if they want to advance in the tournament.
Worst case scenario: They fall behind early to LaSalle before clawing back and eventually establishing a big lead. Then they choke it away, twice fail to execute defensively with the game on the line and less than a minute to play, and then gag away a win from the free throw line. But what are the odds of that, really?
Best case scenario: A safe trip home, at this point. With Nicholson leading four double-digit scorers, the Bonnies could have really been a threat if they got hot. Instead, they didn't finish off the game when they had the chance and won't even make it to Boardwalk Hall.
#10 seed- LaSalle Explorers:
Who to watch: Senior forward Jerrell Williams. Aaric Murray is going to get his as LaSalle's leading scorer, but he plays like he fancies himself a small forward and sometimes drifts away from the basket on offense. Williams gets 13.8 PPG and equals Murray as team leader with 7.5 rebounds per. If he steps up and has a string of good games, LaSalle becomes a much more dangerous team.
Worst case scenario: Williams continues to play at the same level he has all year, Murray is less than dominant, and the Explorers head back home without anyone really caring that they were there.
Best case scenario: Realistically, they've probably already hit it with the win over the Bonnies. It's not impossible the they could be similarly competitive with Temple, but two wins would be the absolute maximum that this Explorers team has any right to dream of achieving this tournament.
NCAA chances: I'll be honest, they don't have any.
#3 seed- Richmond Spiders:
What do you have to say for yourself, Kevin?
Who to watch: Kevin Anderson. The Spiders' senior guard still has Jordan Crawford's A-10 Player of the Year award from last season to show what a dangerous player he can be. His percentages from the floor (.438) and the line (.720) are down from last year, but he is knocking down 43.1% of his treys and getting more points per shot this year than he was last year. His 28 in Richmond's win over Purdue further illustrates how he is capable of carrying the Spiders past anyone when he gets hot.
Worst case scenario: The team that post a .471/.690/.407 shooting line on the year suddenly goes cold. Richmond has been a great shooting team, but their defense is middle of the road and they're near the bottom in both getting and preventing offensive rebounds. If Richmond's shooters stop hitting or get stymied by a tough defensive team, they're vulnerable right away.
Best case scenario: Everyone performs his duty on the glass, and the defense does enough to allow the offense to outscore the opponents. In Justin Harper and Dan Geriot, the Spiders have a couple of big men who can really stretch defenses with their shooting prowess. If Richmond gets hot, they're a scary team with a legitimate chance of winning the automatic bid.
NCAA chances: Pretty good. Richmond is sitting solidly in the field now, and only a bad early loss could put them in any meaningful jeopardy. They also have a chance to just win the thing and spare themselves the suspense.
#6 Seed- Rhode Island:
James (l) ponders an errant three-pointer
Who to watch: Delroy James leads URI in both rebounding and scoring. When
Xavier met Rhody
in January, he was also a legitimate outside threat. Now, however, he isn't. What James does do well is get inside and make space, ranking in the top ten in the conference in both offensive and defensive rebounding. If he could learn to stay inside, he'd be a very good player.
Worst case scenario: James falls in love with the three and URI bows out to a game Billikens squad in the campus round. [Ed. noye: He took four, but the Rams won].
Best case scenario: Rhode Island gets another shot at a Richmond team they beat once already this year. With Richmond vanquished and momentum building, the Rams actually give Temple a game before losing.
NCAA chances: It's not happening.
#11 Seed- St. Louis:
The hair is nearly as bad as the game
Who to watch: Only Mike McCall. He's not great, and on a good team he'd probably play pretty limited minutes, but Mike McCall is what the Billikens have right now. His 10.3 points per game led St. Louis this year. From a freshman that was supposed to be an apprentice, that's pretty impressive. McCall shoots moderately well and doesn't do so often enough to hurt his team. He is, however, saddled with Jordair Jett as a teammate.
Worst case scenario: McCall transfers after URI has their way with a really bad team. 
Best case scenario: McCall plays well and Brian Conklin and Rob Loe manage to keep James off the boards enough to eke out a narrow win. [Ed. note: James had nine rebounds and the Billikens managed only 27]. The Billikens go no further, but one win would be a nice bonus for a young squad.

NCAA chances: Might be a bubble team in a couple of years.