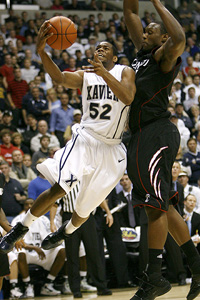 It's that time of year again, actually, it's past that time of year. For the first time since 2006, Xavier meets UC in the Crosstown Shootout in January. For many Xavier fans, this game is the climax of the season. The teams have meant 77 times before, with UC leading the rivalry matchup 47-30. While other, far more hyped, rivalries are played twice a year and seem to mean much more to the fans than the players, the Shootout is a once yearly occasion that often brings out the ugly side of basketball. Here then, are the top five most memorable Crosstown Shootouts.
#5.
It isn't hard to remember number five, because it just happened last year. In the 2009-10 season Xavier struggled into the game against the #19 Bearcats. Jordan Crawford was scoring aplenty, but was doing it outside the flow of the offense and often by forcing shots. Tu (then Terrell) Holloway was yet to emerge as the talent he has since been revealed to be, and the Musketeers were only 5-3.
UC jumped to a 19-12 lead, benefiting from 13 straight Xavier misses. Then, with 7:45 to play in the first half, the game changed. As per the norm for the last four years, Dante Jackson was in the middle of it. After Dante was crushed on an attempted layup the technicals began flying. Crawford and Rashad Bishop were t'd up before the game resumed. Not much longer, Jason Love buried the obnoxious Lance Stephenson on a layup attempt and the benches cleared. A 19-7 run later and X was right back in it.
UC led late but it was Tu Holloway who would be the NY guard that decided the game. Down five with a minute to play, Holloway took over. Five nerveless free throws later and we were going to overtime. UC led again in both overtime periods but Holloway and venerable senior Jason Love anchored a 7-0 run that put the game away for X. Memorable maybe more for the intensity than the quality of the basketball, this was nevertheless an all-time classic.
#4.
We all remember the 2004 season as the one that ended in the Elite Eight at the hands of Duke and some suspect officiating. What is somewhat less memorable is that XU started off the season badly, very badly. At 2-5 in the A-10 and 11-9 overall, the X-Men were looking far more like an NIT squad than one of the best teams in the nation when UC rolled into the Cintas Center at #12.
UC came out like the better team early, leading by as many as 11 early on. Xavier rallied with a 23-7 run that led to a 37-32 lead. From then on, the game raged back and forth. Bob Huggins had insisted earlier in the week that the game hardly mattered to his Big East squad, but that wasn't evident in the way he and his players went after it. No one, however, wanted it more than Lionel Chalmers. An inconsistent player for much of his career at Xavier, Chalmers came into his own in this game. With X trailing by three late, he nailed a shot that tied for the game the final time. Two minutes later he drifted back from a double team and drained a floater that iced the game for X and sent them on their historical run.
#3.
Kevin Frey. Kevin Frey wasn't the most talented Muskie of all time, he wasn't the tallest, he wasn't the fastest, and even he knew that he wasn't the best shooter. What Kevin Frey was, however, was a walking personification of Xavier basketball. He was scrappy, fearless, relentless on defense, and never quit. For one night in 1999, that all came together in a game that made him a Xavier immortal.
UC was #1 in 1999 when the Shootout tipped and that alone should have given them some pause. This game was never about a team that would need one shot for a miracle or a team that was lucky to survive. This game was about Skip Prosser and his boys outpreparing and outworking a Bearcat team that clearly thought it had arrived. The Musketeers made fewer shots and were outrebounded, but they made 23 of 30 from the line and played such suffocating defense that they held UC 20 under their season average.
With a minute to play though, seven deep Xavier (five players played over 30 minutes) needed one last gutty performance to win the game. Up stepped Kevin Frey. With 29 seconds to go, he buried two free throws, with 8.9 his staggering two handed layup gave X the 66-62 lead. Frey scored 12 and only grabbed two boards, but the sight of him swaggering down the out of bounds line with both arms pumping is one that will never be forgotten.
#2.
Lloyd Price is a name that conjures images of wasted potential and an almost tragic fall from grace. Price was a touted recruit who put up good numbers in two years at X, averaging 10.3 points and 5 rebounds before drifting into trouble with the law and, eventually, playing for FDU. In 2000 Price was having a good year when Xavier went across town to play #18 Cincinnati.
Just a year after Frey stunned the Bearcats the game took a familiar tone with a scrappy X squad sticking with the Bearcats before David West keyed a 13-0 run that tightened the game with four minutes to play. UC took a 67-66 lead and brought the ball down expecting a foul and the free throw parade to resume. Lloyd Price, who had missed the front end of a one and one with a minute to play, picked up Steve Logan at midcourt. Logan dribbled tentatively, expecting contact, and Price pounced. With Logan dispossessed and trailing in his wake, Price laid the ball in to give Xavier a lead that a late Maurice Mcafee helped to seal. For the second time in two years a ranked Cincinnati was defeated by a tougher Xavier team.
#1.
The number one game is remembered most notably for one quote "
The UC Bearcats are number one in the country, number two in their own city
." In 1996 the Bearcats were a basketball juggernaut. Sports Illustrated proclaimed that the road to Indianapolis (site of that year's Final Four) ran through Cincinnati. Danny Fortson and Damon Flint were a dominant pairing; it seemed like Bob Huggins finally had his squad.
Xavier came in with a much less heralded team. Sophomores Gary Lumpkin, Lenny Brown, Darnell Williams, and freshman James Posey were a talented group but couldn't match the Bearcats pedigree. A 17.5 point spread belied the fact that the national pundits didn't give Xavier much of chance.
With 78 seconds to go, UC led by five and seemed to have held off a Xavier team that was going to fall short once again. T.J. Johnson stuck back a shot to make the score 68-65 and the rally was on. With 41 seconds left, Posey made two free throws to bring the game within one. Posey scored again with seven seconds left to tie the game 69. Charles Williams then launched himself into Cincinnati infamy by dribbling the ball off of his foot with five seconds to play.
That left X a chance with under five to play. The play was designed to go inside to Johnson, but things broke down. Lenny Brown took his chance to make the play and drove hard to the foul line. Met at the line by Rodrick Monroe, Brown jumped and seemed to hang in the air as his off-balance floater drifted toward the rim. As the buzzer sounded the ball dropped through and the Garden fell silent. Brown and teammates exulted as Huggins and the Bearcats watched despondently. "Lenny in the Lane" had felled the nation's best.